Home for the Holidays: Using Your Time Together to Plan for the Future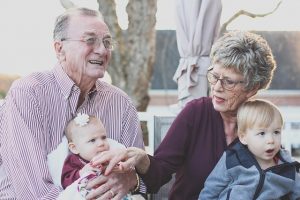 December is just around the corner, and families all over Polk County will be welcoming loved ones to the Sunshine State for holiday celebrations, or they will be hitting the road to head up north to see their families (and perhaps enjoy a white Christmas!). Regardless of where you celebrate, Christmas is a time when families come together, and it's often one of the only times each year when your entire family is together in one location. While it's a wonderful time to reflect on your love for one another, enjoy talking about memories, and soaking up each other's company, the holidays are also time to bring up an important topic that is sometimes neglected until it's too late.
Long term care insurance.
While this is most pertinent to families with elderly or aging loved ones, it's actually an important discussion subject for all family members, as we all age over time and will require assistance in daily activities. Sometimes family members choose to provide this care, such as by having aging parents move into their home, or moving in with their parents for the duration of their golden years so they can provide hands-on care. However, this isn't an option for all families, and even those who do choose to go this route can't usually devote 100% of their time to caring for their parents or other elderly family members. Work, their own children, a spouse's schedule, and more could require that they have some help in caring for their loved ones, whether that be with an in-home healthcare professional, an "adult sitter', or other form of supplemental care. For families who can't bring their aging loved ones into their homes, a full-time in-home care provider, an assisted living facility or medical care facility could be their only option, and those can quickly eat up financial resources. This not only places a major burden on the aging parent or relative, but also on their children and others who are responsible for their care.
The solution to this issue is long-term care insurance. This coverage offers financial assistance and other benefits to those needing care in their later years, without putting a load on their families. It gives peace of mind during a time when people want to relax, and enjoy the ones they love. Carroll Marshall Insurance offers long-term care solutions to meet your specific needs, and we are ready to help you customize a plan that works best for your family. Give us a call or stop by our Winter Haven office to get started.