What You Need to Know About Boat Insurance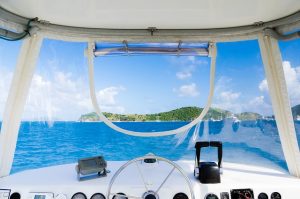 Here in Florida, boats are a common commodity, and are a huge source of entertainment and fun on weekends all year long. Our extensive waterways, close proximity to the ocean in almost any direction, and warm climate make Central Florida a mecca for boat owners who wish to enjoy days waterskiing and lounging in the many lakes, or heading to the beach for an afternoon of fishing and dolphin-spotting. Buying a boat though is just the first part in the ownership process. Storing your boat, maintaining it, and, most importantly, insuring it, are also key.
When it comes to boat insurance, the first response of many Florida residents is, "It's not required here. Do I really need it?"
True, boat insurance is not a legal requirement in Florida as it is in several other states. However, this is not an automatic "waiver" releasing you from the responsibility of having it. While the law might not mandate coverage, those who are financially responsible usually purchase it anyway. Why?
Well, insurance coverage provides compensation in a variety of circumstances. Yes, it offers assistance if your boat is damaged by a storm or stolen, but it goes far beyond that. Let's say you were enjoying a day on the lake when you accidentally collide with another boat. If you don't have boat insurance, the cost of repairs to both your boat AND the other party (if you were considered "at fault") could come out of your pocket. Someone injured in the accident? You could also get tagged with their medical expenses, recovery costs, and more. Basically, any damages sustained in a boating accident would fall on you if you don't have adequate coverage. What about a friend or family member who is injured while enjoying a day of boating on your vessel? Those types of circumstances are also managed by your insurance coverage, and if you don't have any, you'd be liable once again.
Of course, we understand that boat ownership can be costly, and that insurance is an extra expense out of your budget. However, the misunderstanding that coverage for a boat is abhorrently priced keeps many people from exploring the option for coverage, when in reality, they could afford a policy easily with just a few simple steps. First, only purchase what you need. All boat policies aren't created equal, and knowing which features are necessary for you, and which ones don't apply, will save you from paying lots of extra money on premiums that won't benefit you in the long run. Additionally, look for discounts and rewards that will help lower the cost of your coverage. Many companies offer lower premiums for those who have taken courses and are certified in boat safety and safe practices while on the water. Additional discounts are often given for keeping various safety equipment on board at all times (like life jackets, life preservers, fire extinguisher, contact radio, etc.), and can also lessen your monthly out-of-pocket costs.
Finding an insurance adviser that understands the industry, understands various needs for boat owners and knows how to shop around for the best rate for YOU is vital, and Winter Haven residents trust Carroll Marshall Insurance to do just that. We work with a variety of insurance providers, and can help you find the best fit for your needs and your budget. Give us a call and let us help you enjoy your boat with the peace of mind that coverage can offer.