Insurance: Leave It to Luck, Or Leave It to Us?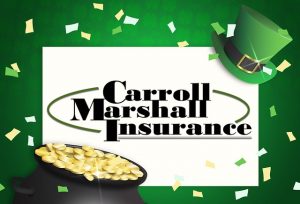 St. Patty's Day is this weekend, and luck is the topic of the hour. "Good luck" means something different for everyone we've realized, and it's subjective to where you are in life, what you value, and what your current needs happen to be. No matter your definition of luck, we can all agree that having what you need, when you need it, is a major reducer of stress and anxiety, and offers security and peace. In it's own way, insurance offers that peace, and while finding the coverage you need at a price you can afford can be hard, we are here to tell you…
Residents in and around Winter Haven know that Carroll Marshall Insurance is their one stop shop for all types of insurance coverage, and not only do we find the best possible rates for each type of coverage, but we also bundle as much as we can to offer you the lowest premium possible out the door without sacrificing the security and coverage you need and want.
We are able to effectively offer this service to our friends and neighbors because of two major reasons: one, we are experienced with years of background knowledge and training in the industry and two, we are locals, and know the market here in Florida. Established in 1952, Carroll Marshall Insurance is family owned and operated, and with generations of watching the trends in the insurance sales industry, we can offer advice to each individual client that will best benefit them in their own unique situation, rather than treating them like a "number" or a statistic. Additionally, we know the local market and which types of coverage are most important to have here in the Sunshine State. For example, clients who move here from northern areas aren't familiar with the importance of, or purpose of, hurricane coverage. After all, doesn't your regular homeowner's policy cover hurricane damage as well? (Hint: it doesn't.) Assumptions such as this are why we can advise clients on which polices to invest in, which can be overlooked, and how to tailor their coverage to fit their needs throughout their lives.
So, pick up the phone and call us for an appointment! No need to be feeling "lucky"…we offer the same great service to each person who walks through our door. We look forward to serving you!