Do You Invest in Your City? How Your Support Makes a Difference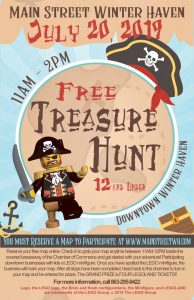 When you read the above title, you might automatically jump to a financial mindset..and then question what it means to "invest" in a city. However, we aren't actually referring to money at all. Rather, we are referring to investing your time and energy in your community, and supporting efforts that make up the heart of your area. Here in Winter Haven, residents are fortunate to have a variety of local events, beautiful surroundings, and friendly neighbors, and we are thankful to be blessed with the opportunity to call this place our home.
A big part of supporting your city means coming out for these events, and staying up to date on what's going on in your immediate area. Just in the next 6 weeks Winter Haven locals (or visiting tourists) can look forward to a Downtown Treasure Hunt for the kids, the Cypress Gardens Water Ski Show, and Ladies Night Downtown, in addition to ongoing, regularly scheduled events through the library like Lego Club, Poetry Club, and Little Sprouts Story Time. These types of events offer fun for all ages, and range from family-friendly gatherings to entertainment for adults, which ensures that no one is left out.
Why do we care so much about supporting these local happenings though? Well, turning out for these events has some secondary effects for our city, including…
A better sense of community. When you have more face-to-face time with your neighbors (and we don't just mean the people who live next door) you'll feel more connected to your city and that makes a big difference in the overall "feel" of our area. When everyone is made to feel like a local you have a better environment for those already living here, and for those who visit and want to live here because of that neighborly vibe. That leads us to the next point which is…
Better economy. When you support local events you are contributing to the aforementioned sense of community, and that's appealing to people who visit Polk County. They might come for the lakes, water sports, and Legoland but they'll want to stay because of the welcoming environment that YOU have helped develop. More people moving here means more consumers for local businesses, and can mean more businesses coming to the area. All of this contributes to boosting our local economy and has wonderful repercussions like a booming real estate market, more cash flow to improve amenities, and a better reputation at a state-wide or nation-wide level.
Carroll Marshall Insurance is proud to be one of these local businesses and have the privilege of serving clients here in Winter Haven since 1952. We've watched our city grow and change over the years but are thankful that our sense of community and our commitment to keeping our unique Central Florida flavor hasn't changed at all. We encourage you to become an active "member" of our city by coming out this month and getting a glimpse of just what Downtown has to offer. Learn more about the dates and times for the events mentioned above, and see even more fun ideas to add to your calendar at https://www.mywinterhaven.com. While you're downtown, feel free to stop by our office and say hello, or make an appointment to chat about your insurance questions, from homeowners policies to coverage for individual, specialized items. We are always happy to help, whether you're a longstanding client or a new face to the area. We look forward to serving you!