On the Go: Protecting Your Pup During Your Autumn Adventures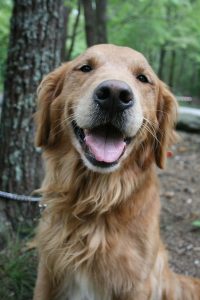 Now that Fall is here and temps are *slightly* more comfortable in Florida, many people are taking advantage of the weather to get out and enjoy nature. Often, that means their pup will be along for the ride, whether on the boat enjoying the local Chain of Lakes, or out in the woods for a camping excursion. Just as you would prepare and take safety precautions when taking your children on these types of adventures, your pet needs some thought as well in order to stay safe and healthy.
Here are our tips for making sure your dog is ready for fun, no matter where the road (or water) may take you:
Hydration is important, whether on two legs or four. Humans know it's important to stay hydrated during outdoor activity, but do you realize that the same is true for your furry friend? Take a spare bottle of water or two for your pup, and a simple dish for them to drink from. If you are an avid outdoorsman, you can find collapsable dog dishes that stow away easily in a hiking backpack, in a camper, or on a boat.
Have your dog wear the proper gear! Dogs need to be equipped for your adventure. If going out on the boat, or enjoying time around the lake or on the coast, make sure your pup has on a pet-friendly life jacket or floatation device. When hiking, consider investing in special booties that protect your dog's paws from rough terrain and offer a barrier from hot surfaces.
Double check identification before each trip! Ensuring that your dog's collar and identification tags are easily readable, securely attached, and up to date is a huge part of taking your pup out on adventures this year. One slip up thanks to a loose leash or a "spook-and-run" scenario and you could lose your beloved pet. Having proper identification means they can find their way back home, and will mean they're more likely to be taken care of until they're back in your care.
We encourage you to get out and enjoy what nature has to offer with your pet this season. Want to protect them further? Pet insurance is a great way to make sure they are covered no matter what comes your way. From injury to illness, pet insurance and protection plans give you confidence that your pet will be cared for and provided for if the unforeseen happens. No one wants to be left with the heartbreaking decision to put their beloved pet down because they can't afford care. With pet insurance, you don't have to. Ask us how we can help you fit it into your budget and include your pet in your insurance portfolio!