Insuring the Big Guy: How Much Would It REALLY Cost to Cover Santa?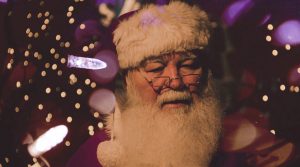 Insurance companies have plenty of information for you around the holidays. Tips about protecting your home and vehicle during a time of year when theft is high, insuring those expensive new toys (or that shiny new engagement ring) and making sure you're ready for that long holiday road trip and the risks that come with it, there is no shortage of advice about how to protect your family and your belongings this Christmas season. All of the talk about policies and plans though had us wondering…what would it be like if Santa purchased coverage for the holiday season? After all, as Father Christmas, he needs protection more than anyone else, right? If he came into our office today, our advice would probably look a little something like this:
First, that house up in the North Pole and his busy workshop require multiple policies. Living in extreme conditions means he needs additional coverage for possible wind damage or for fire since the fireplace will be burning day and night. That toy workshop? Commercial coverage for the building and for inventory is a must. Fire, theft, and water damage are all possible when you're building millions of toys each year, and no one wants to risk disappointing children around the world when their gifts don't show up.
Head into the garage and we come to that fancy sleigh and those 8 prancing reindeer. That sleigh requires a commercial auto policy since it's a vehicle used for work and is a pretty big part of Santa's livelihood. What's more, he might need to add on some additional coverage for recreational vehicle purposes since the sleigh does fly and that falls outside the realm of typical road damage if he accidentally clips a chimney or has a run-in with a rogue bird while in the clouds on Christmas Eve.
Next, we need to talk about his work force. Those hundreds of elves responsible for making Christmas happen each year will require coverage for themselves and their families. Worker's compensation, health policies, dental coverage, vision insurance, and and more will need to be discussed as Santa decides what type of benefits package he believes is best for each of his elves and how that will work into his annual budget.
Finally, a good health policy for Santa and Mrs. Claus is a necessity. What if Santa gets stuck in one of those chimneys, falls off a roof, or suffers a rough landing in his sleigh? Christmas magic can only go so far, and he'll need to have coverage for the many medical bills that are sure to come. Ongoing recovery costs, therapy, and more should also be considered, since he only has a year to get back into tip-top shape, and missing a night on the job is NOT an option.
As you can see, there are many factors to consider when putting together a coverage plan for your home, business, and family. While joking about Santa's coverage is fun, your coverage is no joke. Carroll Marshall Insurance takes our job seriously, and we strive to provide the very bed advisement services for each client who comes through our door. As Winter Haven locals ourselves, we see our customers as friends and neighbors, and want to see them in the optimal situation based on their coverage needs and their budget. Give us a call if you have questions or concerns about your own policies.
Wishing you peace and joy as you prepare for the upcoming holiday season with your family!