Water Can Be "Ruff:" Protect Your Pooch This Summer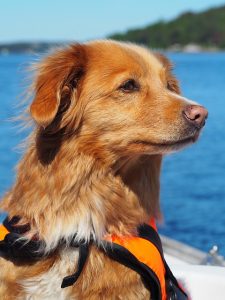 Summer is in full swing, and here in Central Florida that means people are heading to the water at every available opportunity to escape the heat. From lakes, to pools, to beaches, for many Florida residents the fun will include their dogs. Just as you would with children, there are some precautionary and protective measures to take when planning to take your dog out on the boat with you for a day of swimming, sunning, and fishing, or heading to the beach for wave jumping and lounging in the sand. Try these tips to keep your pet safe and happy during their time in and around the water this summer.
Prevent drowning by making sure your dog has a pet-friendly floatation device. These can be ordered online, or found in some specialty pet stores. While most dogs know how to swim, and many enjoy it, a dog who ends up farther from the boat or shore than intended, can tire and lose the ability to swim as well as they normally would. Don't take the risk.
Shield your dog from sunburn. Just like humans, dogs can be susceptible to sunburn. Dogs who have white coats, or thin hair, are especially sensitive to being in the sun for extended periods of time. Pet friendly sunscreen is sold in many places, including some big box stores. It's a very inexpensive way to protect your pet from potentially harmful effects of the sun.
Bring plenty of water. If you are thirsty more often than usual while out on the boat, chances are your dog is too. Bring a travel dog bowl (or any pet-safe container that will hold water) and a few jugs of water to offer to your dog throughout the time spent outside. This will prevent dehydration which could lead to more serious issues.
Put away dangerous chemicals and equipment. On a boat, there are many opportunities for your dog to get into mischief. Make sure any harmful cleaning agents, sharp tools, etc. are put away or placed out of your dog's reach. Just like a small child, they are curious and can get themselves into trouble when trying to explore.
We hope you will keep these tips in mind when planning your summer days with your dog. We know that your pooch is part of your family, so make sure to keep them safe while including them in your lakeside activities this year! For an extra level of protection, consider pet insurance for your beloved furry friend. Pet coverage helps mitigate the cost of everything from routine vet visits, to catastrophic events that require extensive and long-term medical care. Carroll Marshall Insurance can help you determine what type of pet policy is right for you, so give us a call or come by our Winter Haven office for more information.
Enjoy the "dog days" of summer!