When the Wedding Bells Don't Ring: Why Event Insurance Might Be Right for You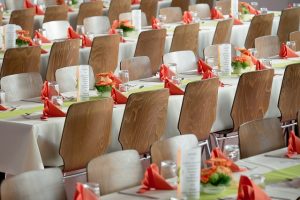 Event insurance is a topic that many consumers aren't familiar with.  It might seem silly to some people, since you are basically purchasing a "one-day" policy, that covers a single event.  However, with events such as weddings costing upward of $30,000 in today's market, event insurance can actually be a worthwhile purchase.
Event insurance (most often, wedding insurance) essentially covers damages, injuries, etc. sustained during the event in question.  In other words, if a wedding guest has one too many drinks and breaks a window (or a leg!) then you are protected against liability costs from the incident.
Oftentimes, event and wedding insurance providers offer add-ons such as cancellation coverage, special coverage (for rings, tuxedos, dress, etc.) and more.  You can essentially tailor a package to your own specific event, making sure that your multiple investments in your big day don't go to waste in the event that there is an issue.
If you have questions about event insurance, or any other type of coverage to protect yourself, your belongings, and the ones you love, give us a call!  Carroll Marshall Insurance is proud to serve the greater Winter Haven area with top-quality insurance coverage and advising services for those who aren't exactly sure what they need or how to go about getting it.
Don't let your big day go uncovered!  Consider saying "I do" to event insurance before you take the walk down the aisle.