Work at Home? Here's What You Need to Know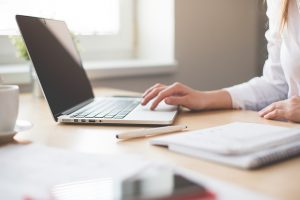 In the current job market, working from home, or "teleworking" as it's best-known, is becoming increasingly popular. After all, what's not to love? It's less overhead operating costs for the business owner to pick up, traffic and commute time becomes a non-existent issue, and employees can enjoy a more flexible schedule and work environment which ups the staff morale big time! However, if you are one of these work at home employees, or if you own a business from home, there are some important things you should know about your insurance coverage and what it means for your job.
Take note of these considerations as you prepare for your work-at-home career:
Equipment belonging to your employer needs to have proper coverage. Your homeowner's policy might not cover equipment belonging to your employer, and depending on what type of coverage they have for their business, it might not be covered by their policy if it's taken off the premises. Take the time to speak with your employer about the details of their own insurance coverage regarding specific pieces of equipment (cameras, computers, tablets, etc.) and get in a call with your own insurance advisor or insurance provider as well just to make sure you're not left holding the bill in the event of something unexpected.
Your work space might need different coverage. While your homeowner's insurance covers up to a certain amount of "replacement costs" for items in your home in a disaster, that max amount might not be enough to cover expensive work equipment that you add once you start working from home. Again, talk to your advisor and make sure that the new tech setup you purchased, or the new office set you saved for, isn't a total loss if unforeseen circumstances come your way. You might need to purchase an policy add-on or up your current coverage to allow for these new items.
If your teleworking will involve having clients come to your home at all, or participate in any work-related activities on your property, double check your coverage ahead of time. If someone is injured in or around your home because of a work-related event, it could change the way claims are made on their end, and that could have an impact on your own coverage. Again, every policy is different, so it's key to have a conversation with a knowledgable advisor who can walk you through the details of your plan and help you tailor it to specifically meet your new needs as a work-at-home employee.
We wish you luck as you branch into the world of teleworking and all the freedom that comes with it. For Winter Haven residents who are looking for clarification about their own insurance, Carroll Marshall Insurance is here to help. Whether it's because you'll be working from home, or simply need to add some new coverage options to your plan thanks to that brand new pool or garage addition, we've got the experience and industry knowledge to ensure that you are covered no matter what life sends your way. Give us a call or stop by our downtown office!