Camping and Your Car: Tips to Protect Your Vehicle During Your Summer Adventures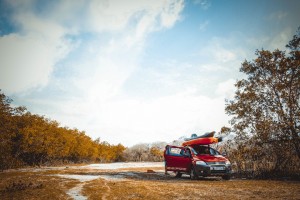 Camping is a wonderful way to enjoy the great outdoors, unplug, and bond with family and friends, but it can also hold its own unique set of risks…and we don't just mean for you! Obviously, when going camping, you utilize some type of vehicle to reach your campsite (or camping area) and if you don't plan ahead and prepare, your car could end up paying a heavy price for a weekend of fun. If you're planning to hit the trail this summer, or pack up and pitch your tent by the ocean, here are some ways you can keep your vehicle safe. After all, it deserves a little TLC for getting you where you needed to go!
Cars don't always stop critters. This is especially true of bears. Bears have an incredible sense of smell and a big dose of determination, which means your car's exterior will be no match for their desire to reach that bag of chips left in your car's console. Believe it or not, the mountains aren't the only place bears call home, so even if you're camping here in Florida, you need to plan for bears. Keep any food, toothpaste, medications, etc. sealed tightly, and in a bear box or bear bag AWAY from your tent. Don't have any of these options? At the very least, keep all of these things sealed in a good quality cooler inside of your locked vehicle. The more you can hide the scent, the better your chances of avoiding unwanted guests in your campsite. Even if you aren't at risk for bears, squirrels, armadillos, mice, rats, and other smaller creatures can find their way through cracks in windows to reach things inside your car. Make sure all windows are tightly rolled up and locked!
Watch where you park. If possible, park your vehicle away from roadways and foot traffic as it makes you more likely to experience a collision or vandalism. Try to park in areas not directly under large tree limbs or in an area susceptible to falling debris (like rocks!) that could damage your vehicle in the case of an unexpected storm. Have a weather cover for your car? It's a great idea to bring it along. Any protection from the elements you can offer is helpful.
Come home and clean. When you get home from a trip to the wilderness (or your local state park) it's a good idea to give your vehicle a thorough cleaning. This is especially true if you've been somewhere like the beach or in cold regions where the roads are salted. Salt and sand can have damaging effects on your car's mechanical parts as well as the paint job. A bath and some time to dry in the sun will keep it at its best.
We hope you enjoy your summer treks and that you can glean all of the best things nature has to offer during your camping adventures. Protecting your car makes sure you'll be enjoying trips for years to come. Auto insurance is another way to protect your vehicle and prepare for whatever life throws your way. From falling limbs to roadway collisions, a complete auto policy will make sure you aren't left holding bills you weren't planning on, or find yourself left without a vehicle. Carroll Marshall Insurance is here to help you find the very best rates on auto coverage in Florida. What can we do for you?