Celebrate FRESH! National Fruits and Veggies Month is Here!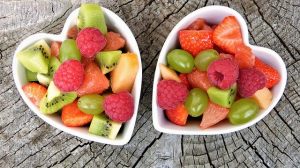 June is here, and not only does that mean it's time to kick off summer, but it's also time to kick off National Fresh Fruits and Vegetables Month. It's the perfect time to incorporate the fresh flavors of summer into a healthy and exciting diet. If you're already feeling the burn of the busy summer season ahead, we know it's hard to get all your daily values in when it comes to fresh produce, especially if you work a regular daytime job.
Here are some tips for making a fresh diet work for you this summer, no matter the busyness!
Plan ahead. By looking ahead and your week and having a plan for your meals, you're more likely to incorporate healthy options. There are a variety of ways to incorporate healthy eating into your weekly routine by utilizing a meal plan. Try prepping various salads for the week, and then you simply throw the jar into your lunch bag along with the dressing, grab a bottled water, and you're set to go! You could also plan out and prep healthy dinners for the week, and cook enough for leftovers for your lunch the next day. By having your lunch packed and ready to go the night prior, you'll save time in the mornings without sacrificing health.
Make sure your meals (and snacks) pack a punch. Need a breakfast on the go? Instead of reaching for a bagel or a granola bar, why not plan for 10 extra minutes of prep and whip up a smoothie? Smoothies are a wonderful way to get in several servings of fresh fruits (and veggies if you add spinach, carrots, or other mildly flavored options in!) without having to take time to sit down and eat a large breakfast. You can whiz up a smoothie in the blender, throw it in a transportable cup with a straw, and you have a healthy breakfast to sustain you throughout your morning commute. Keep the same thing in mind for lunches and snacks throughout the day. Reach for fresh options like carrot sticks instead of potato chips alongside your sandwich, or an apple instead of a cookie when the afternoon slump rolls around.
Shop local! Yes, we know fresh produce, especially if it's organic, can be a bit pricey in the grocery store when compared to convenience options. That's why we encourage you to shop local. Even with COVID restrictions, many farmer's markets are going on during the summer (with masks and plenty of hand sanitizer) where local farmers pull out their best produce to sell. You know you are getting fresh, top-quality fruits and vegetables, and you're supporting a Florida farmer and neighbor. It's a win-win. Plus, by buying fruits and veggies that are in season, you know they'll taste better, and likely have a higher nutrient content.
By choosing to eat fresh this summer, you'll not only enjoy the flavors of the season, but you'll be increasing your intake of vitamins, minerals, and antioxidants, which are key in keeping you healthy and fit. With the extra energy, increased metabolism, and other benefits of eating clean, you'll be able to make the most of each opportunity the summer has to offer. Another important component of staying healthy? Keeping up with your routine preventative care. Health insurance is the primary means of providing annual well-visits for yourself and your family, so making sure your policy is up to date and ready for the summer is important! We are ready to help. Give us a call or stop by our downtown office. We'd love to see you!