Fight Your Way to Better Health This Football Season with Carroll Marshall Insurance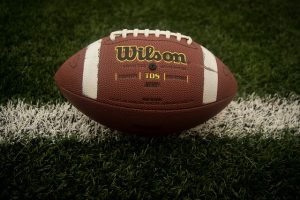 College football season is in full swing, and here in Florida, football is a way of life. Fans are passionate, loud, and committed to those college colors, and if you are a fan yourself, you know that Saturdays are set aside for cheering for your own team, and watching out for the scores of your rivals. As much as we love football season and all it brings, there are some not so great parts of football when it comes to your health. We believe that you can have your cake (or hot wings!) and eat them too, while still pursuing a healthier lifestyle.
We've put together a list of our favorite quick tips for making football season healthier at your house, without sacrificing any of the fun. If you want to feel better on game day, try…
Grilling your wings! We know that wings are as much of a part of football as the team jersey, but they can be incredibly unhealthy. Often fried, and then tossed in high calorie, low nutrition buffalo sauce, they are definitely not at the top of the list when it comes to healthy eating. Instead, try grilling your wing sections after tossing them in a light coating of olive oil and seasoning of your choice. For no-sauce options, a BBQ dry rub, lemon pepper seasoning, or jerk seasoning can be great choices to give lots of flavor without all the calories. If you do want to use sauce, use a scant amount and toss the wings around in it when they come off the grill. Then, pop onto a sheet pan and let them roast in the oven for 2-3 minutes just to let the sauce set up and "stick" to the meat. Tons of flavor, without an excess amount of sauce.
Include veggies on the table! Wings are delicious, and everyone loves a good dip with chips or crackers, but life is about balance, Including fresh veggies and fruits on your game day table will not only add interest, but it will also help encourage healthier eating. On your own plate, aim to have at least half of the space taken up with fruits and veggies, and then fill the other half with the "fun" foods of your choice. Keep in mind, you can use those celery sticks, carrots, pepper slices, or even broccoli as replacements for chips and crackers for your favorite dip options, giving you the flavor you enjoy with more nutritional benefit than the alternatives.
Don't stay stationary! It's easy to let an entire Saturday go by during football season and realize you haven't left the couch since the first game kicked off that morning. Make time during the day to move your body! Use halftime to go out and walk a couple of laps around the neighborhood, pull a few neighbors and friends together for a pick up game of backyard ball yourself, or fit some sessions of in-home cardio in while you're watching game highlights and reports in between the kickoffs. A few short sessions are all you need to reach the recommended amount of physical activity for a day.
Congrats to those of you having a great season so far, and chin up to those of you who are a little worried about those scores! There's still plenty of football season left, and we're ready to enjoy it alongside you. We hope you feel better equipped to make healthy choices as you enjoy the games. When it comes to being better equipped to handle the unexpected circumstances that come up in life, Carroll Marshall Insurance is here for you. Our experienced advisors can help you evaluate your current coverage, assess your needs and budget, and customize an insurance plan for you so you get the best possible benefits as the most competitive rate. Give us a call or stop by our downtown office!