Kicking Your Habit During COVID-19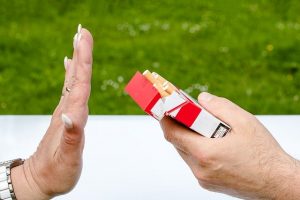 Smoking is a hot topic (no pun intended) lately with lung health and the threat of COVID-19 looming. and is the focus of many conversations regarding how the sickness can (and does) affect those who smoke. Now that people are thinking hard about their health, and how to give themselves the best odds of beating Coronavirus should they contract the sickness, smoking is frowned upon even more as a risk factor that just isn't necessary. In addition to putting you at higher risk if you get COVID, it also increases your chances of heart disease, cancer, and issues with your mouth, throat, and teeth as you get older.
Why not kick the old habit of smoking to the curb? There's no better time! With dedication and hard work, you can stop smoking, and instead embrace habits that help your health instead of harm it.  Here are some helpful tips to get you started:
Partner up.  Know someone else attempting to kick their bad habit, whether smoking or otherwise?  Partner up (from a distance of course!) to hold one another accountable. Having an accountability partner is a great way to make sure you stick to your plan, even when the temptation is high. Calling, texting, or even video conferencing on a daily basis is a good way to stay on the path and meet your goals since you can count on being asked how you're doing by your accountability pal
Trade out your smoking habit for a healthier alternative.  For example, take up walking/running on your work breaks or in the mornings/evenings instead of sitting outside and having a cigarette.  You could also take up an art or craft hobby (like knitting, sewing, sketching/painting, etc.) to keep your hands busy when the desire for a smoke comes up.
Try alternatives.  To help wean you off of nicotine (the addictive substance found in cigarettes), there are many options for patches, chewing gum, etc. that give you small doses to help wean you off your addiction.  These are helpful if you are used to smoking many cigarettes each day and are suffering withdrawal symptoms.
Save your cash!  Cigarettes are expensive, and you likely don't even realize how much of your money earned goes into feeding your habit.  Instead of spending the money on cigarettes, find out how much you are spending on smoking each week, and then throw that money into a savings account instead.  Promise yourself to use the money for a vacation when we can travel again, a big-ticket item, or something else you have wanted but couldn't afford to do because of your smoking addiction.
At Carroll Marshall Insurance we care about your health and wellness. That's why we are committed to not only offering healthy advice, but also helping you get the best possible coverage for your medical care throughout your life. We seek out the lowest rates in Florida and can tailor plans to meet your needs. Give us a call to discuss how we can help you!