Ready, Set, Launch: Sending Your Student into The World of College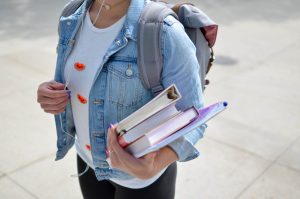 Students all over Polk County are gearing up for a new school year, and while the adjustment from lazy summer days to the structured schedule of classes and homework is hard no matter the grade, for those heading off into their first year of college, the switch can be difficult to navigate. Students at this level aren't just adjusting to new teachers, classwork, and peers, but are also adjusting to living on their own whether in an apartment or a dormitory, and are typically a little overwhelmed for the first few months. While experience is the biggest key in adjusting to this new lifestyle, there are a few things you can do to set them up for success. Here are 4 tips for making the first year of college easier for your child (and you) to manage:
Check in often. While most college kids will roll their eyes and claim that they're fine, having mom, dad, a grandparent, or other influential adult in their lives check in regularly through a quick phone call, FaceTime visit, or even text message is encouraging and makes their "life before school" not seem so far away.
Give the gift of gift cards. Gift cards are a great way to show your college student that you're thinking of them even when they aren't there. Gift cards can be easily mailed in fit into a school postage box, and can help with things like gas purchases, needed items at local stores, or even a meal or two out when the cafeteria just isn't sounding appealing. A quick note and a gift card can turn around their entire day!
Offer "scaffolding" as they adjust to being an adult in the big world. Learning to be in control of their own schedule is a big leap for most kids, so offering some continued support from home is a big help as they learn and grow. Gentle reminders about upcoming appointments, helping them keep up with important deadlines for college paperwork (financial aid, medical forms, etc., NOT their actual school assignments) and continuing to assist them in scheduling things like vehicle inspections and needed maintenance, doctor's visits, or trips to the dentist can be a big boost to their confidence as they learn to navigate the grown-up world.
Having paperwork in order before they leave! A big part of adjusting to the world of adulthood is managing the paperwork that goes along with it. This is especially important in emergency situations like those involving medical needs, a vehicle accident or breakdown, or fire/theft in the dormitory. These are big issues for a young student, and having helped them prepare ahead of time and know what to do in these types of circumstances is important. Make sure your student has a copy of their health insurance card on them at all times, and knows how to use it (knows vital information like social security numbers, etc.), along with insurance information for their vehicle. Obviously, you as their parent or guardian will be one of the first people they call in any emergency, but if they are living at a distance and you can't get there right away, they'll need to know how to handle some things on their own.
Having a conversation with your insurance advisor before your student heads off to a college is a great way to make sure you, and they, are prepared. Here at Carroll Marshall Insurance, we can not only help you make sure all information is up to date for your student, but we can also go over policy additions or changes (like all those new dorm supplies or that expensive new laptop needed for school) and make sure you're covered in an unexpected event. This will give you the peace of mind you need as you send your student off into the big world of college, and will be one less thing you have to worry about during the transition.
Good luck to all students on their upcoming 2019-2020 school year!