Where There's a Will There's a Way: The Importance of Having Your Final Affairs in Order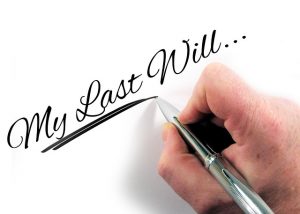 When it comes to insurance, there is plenty of information about premiums, policy coverage, and outliers that could affect payout in the event you have to make a claim. However, there aren't as many resources available about choosing your beneficiary for these policies, how to make sure your loved ones are taken care of in the event that you pass, and which types of coverage you should work into your will if you choose to make one. The first step though is creating that will, and that's a step not many people think about taking until it's too late.
Making a will can be as direct (or as complex) as you choose. Many times, the main breadwinner of a household creates a will including his/her spouse and any other children or dependents as the beneficiaries of all their assets, including insurance policies. However, in homes where a divorce has taken place, where step-children need to be taken into consideration, or where there are other special circumstances to account for, creating a last will and testament can be a little more complicated, and require outside help (often from an attorney) to make sure your wishes are met when you aren't around to take care of your loved ones yourself. Before you can have your attorney draw up your will though, you'll need to have an understanding of your various insurance policies (and the paperwork to back them up) and that's where we come in.
Carroll Marshall Insurance isn't just about insurance sales…we are about insurance advisement for our clients, which means we walk you through choosing coverage that meets your needs, stays within your budget, and provides for your loved ones the way you see fit. We take time to sit down with you and go over what each plan covers, and how it provides for you in any situation life throws your way, from an extended terminal illness to a sudden tragedy. These plans make sure there are funds for medical care, burial expenses, and other debts left when you are gone that would otherwise fall onto the shoulders of the ones you care about. We will make sure you are prepared to meet with your attorney to create a will that gives you peace of mind for yourself and your family. You can come by our Downtown Winter Haven office, or give us a call to set up an appointment, and get started with the process of getting your final affairs in order. We look forward to hearing from you soon.