Water Safety 101: Staying Safe During Your Summer Fun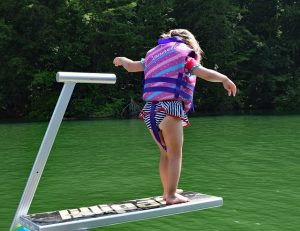 With temperatures quickly heading toward our summertime normal here in Florida, people already have boating on the brain, and all the water sports that go along with it. From kayaking and paddle boarding, to water skiing and just plain swimming – the water beckons to Polk County residents at this time of year, whether they choose to head to the coast on either side of us, or to one of the many lakes nearby. Regardless of what kind of water fun you're looking forward to, planning ahead and preparing for your own safety, and the safety of those with you, could be the difference between a day full of great memories, and an unexpected (and unfortunate) twist of events. Try these tips to make sure you're ready for whatever the water throws your way this summer…
Life jackets aren't optional. From the smallest crew member to the fur-babies on board, each and every person (or pup) on a boat or enjoying time in the water should be wearing a floatation device of some sort. Small children need special life jackets specifically targeting their age and weight, so take time to get them fitted properly for maximum safety. Adults need to model the example of keeping these life jackets on at all times, regardless of the type of activity or current water conditions.
Remember to charge your cell phone. No, we aren't encouraging selfies, or checking into your social media while you're out on the lake. Rather, you need to keep your phone's battery charged in case of an emergency while out on the water. Quick response time and having a phone that emergency crews can use to track you are important parts of life saving and rescue measures taken in the case of an accident. Going out on the water with no means of communication is NEVER a good idea.
Don't drink and drive (or swim, ski, etc.). Alcohol and being out on the water don't mix. Drinking while driving a boat is just as dangerous as operating a motor vehicle while under the influence, and it can have deadly consequences for you or someone else. Not only that, but passengers who are drinking and then participating in water sports or swimming are more likely to suffer injury or death. Keep drinking to a minimum (or just opt for non-alcoholic options) when enjoying a day on the water.
Of course, making sure your boat is protected before kicking off your summer is one of the most important ways you can stay safe. Having proper coverage for damage, injury, and liability issues mean you can have peace of mind when you rev up the boat and hit the water with your friends. When you're ready to discuss your coverage options, Carroll Marshall Insurance is here for you!