Tips Before You Travel: 3 Holiday Pointers for Homeowners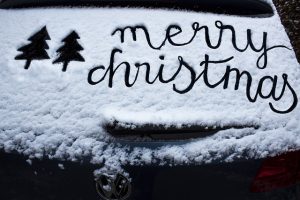 Christmas is only two weeks away, and while many of us are preparing our homes for family and friends to come celebrate the holiday, others are preparing for travel. Whether meticulously packing suitcases with gifts for air travel, or loading the car for a road trip across the state (or across the country), Christmas is when we all go to the place that feels most like home to be with the ones we love. However, if you're traveling it means leaving your actual home unattended for a few days, and that can have negative consequences and leave you with some unwelcome surprises when you get home if you haven't prepared.
What do we mean?
Empty homes are at risk for damages due to theft or disaster, natural or otherwise. When unattended, things like burglaries, leaks, fire, etc. could go unnoticed until the damage is great. However, you don't have to leave your home defenseless! We have three pointers to help you feel secure when you pull out of the driveway for your travels:
Check and double check locks, knobs, and switches. Something as simple as an unlocked back window could let in a thief, and they'll take more than your Christmas joy. Any remaining gifts under your tree, electronics, jewelry, weapons, and even collector items are all fair game for someone stealing items to flip for cash. In this same way, forgetting to turn off a coffee pot, or leaving a faucet dripping by accident could result in major damages due to fire or flood that your homeowners policy may or may not cover, depending on your plan. Do a walk through your house before you leave and make sure all locks are secure, and everything is turned off/unplugged.
Hire a sitter! Hiring a house sitter can be a great way to protect your house during the holidays. If you have pets, it can be a great way to "double dip", as the house sitter will often take care of your furry friends in their own home environment, and you won't have to pay for a separate kennel or pet sitter while you're away. If you can't afford to hire a sitter, offer your place to friends or family who live out of town and might like to visit your area (who doesn't love sunny Florida?) over the Christmas holiday. It's a win-win. They watch over your home, and get a vacation at the same time.
Invest in a quality security system. Many modern security systems come with sensors and cameras that can alert you to not only foul play thanks to vandals and/or burglars, but can also let you know if something is amiss in regards to smoke, carbon monoxide, and even flooding. If you are alerted, you can then contact emergency personnel and hopefully protect your home from further damage. Bonus: many homeowners policies offer a discount to those who have security systems since they are less of a financial risk.
But, the ultimate way to protect your home whether you're across town or across the street is to stay up-to-date on insurance policies and annually evaluate your coverage for your current needs. Doing so makes sure you are prepared for whatever comes your way. When you trust Carroll Marshall Insurance with your policy needs, we customize a plan to meet your unique specifications, so you can get the coverage required at a price you can afford. Our ultimate goal is your best interest, so give us a call and see how we can help you!