Water Safety on The Go: Protect Your Children (and Yourself) This Summer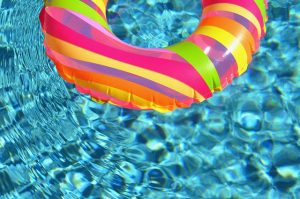 Water safety is a huge topic here in Florida, since our vast amount of lakes and waterways, close proximity to the ocean, and abundance of swimming pools means you are almost always at risk of water-related incident if you're not prepared. Those of us with pools at home have likely taken every precaution, from specialty pool gates to multiple locking systems on exterior doors and widows, but what if your child isn't near
your
 pool, but near other swimming areas or bodies of water? Have you prepared them for water safety on the go?
While you can't always be with your children, you can give them tools to use if they find themselves in a sticky situation, no matter their age. One of the biggest defenses against water injury and death in small children is the investment of quality swimming lessons beginning from infancy. Specialty programs have been developed and tailored for years to prepare babies, toddlers, and even older kids how to respond when they fall into water and can't get out on their own. Often, these courses work on a system of flipping oneself into a back floating position, and then waiting for help/calling for help. As a child progresses, they will be taught how to swim to safety on their own, when it's better to wait for help, etc. We can't speak highly enough of having your children taught early, and continuing lessons until the content is mastered by your little ones. To follow up, routine practice and refresher courses are encouraged so you can be confident that your child is a capable swimming no matter where you go.
Additionally, children need to know how to behave in a pool away from home. Unlike swimming in their own backyard where mom and dad are in the water with them (or close by), and no one else can obstruct their view, a public pool, a water park, a lake, or other crowded swimming area can be a huge risk if your kids aren't prepared ahead of time. For those old enough to understand, implementing a buddy system with a sibling or a friend can be effective. You always swim with your buddy, and if anything happens, there will be visual contact so help can be called for quickly. If your children are too young for a buddy system, and you can't have eyes on them the entire time, it might be worth bringing along a babysitter, a friend, family member, or other trusted individual to assist in keeping up with everyone while in the water. You can never have too much supervision when water is involved. It takes only a matter of seconds for a child to drown.
Finally, set out some rules for your kids so they understand "pool etiquette" when away from home. No running near or around the pool, no diving unless otherwise posted, know where the lifeguards are located before you get in the water, etc. are all key to preparing your children for a successful (and fun) time in the water as you head out to enjoy some sun this summer. At Carroll Marshall Insurance, we care about your safety and the safety of your family, and we are here for you as your Winter Haven neighbors and insurance advisors. For questions or clarifications about your existing policies, or for help determining what type of coverage you need, give us a call. We are ready and waiting for you!