Best Year Ever: Aiming for Optimal Health This School Year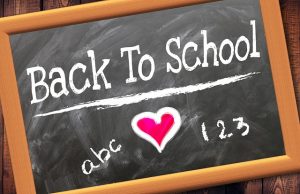 School is back in session for students (and parents) all over Polk County, and the beginning of school usually marks the beginning of cold and flu season. Parents are eager to protect themselves and their families from the onslaught of germs that are sure to come their way in the coming months, and while a daily multivitamin is a good start, it won't give your body everything it needs to fight off the "sickies" when they hit. So how can you help your child, and yourself, fight off the various colds, flus, and stomach bugs this school year?
Get Active!
Something as simple as adding walking to your daily routine can help you not only lose weight, improve heart health and circulation, and improve mental clarity, but it can also boost your immunity. A simple, but rigorous, walk is gentle enough for people of just about any age and ability to do! It doesn't have to be extravagant. Throw your walking shoes into the trunk of your car and hit the parking lot for a few laps on your lunch break at work or hit a local park when you pick the kids up from school. Stuck at home with little ones? Head out with them! You'll be a great model of staying healthy, and they'll be exercising right along with you! Staying active this year along with your kids will offer each of you boosted health and a better chance of staying well all year long.
Chug! (Water, that is)
We all know that drinking water is important for our health, but did you know it can help you fight off sickness? By getting in your recommended daily ounces, you'll be flushing unwanted toxins out of your system, and therefore giving your immune system a hand in keeping you well. Don't enjoy plain water? "Spice it up" by throwing some of your favorite fruits into a pitcher of water and storing it in the fridge. It will be good for 2 or 3 days at a time, and the fruit will infuse the water with flavor and some healthy vitamins! Good combinations include a mixture of berries, orange and lemon, or cucumber and mint! These mixtures are a fun way to get your kids involved too! Set up a "water bar" and let them pick their various flavor combos. They'll be more likely to drink something they created themselves.
Get Your Zzzzs
Proper rest is important at any age, and if your goal is to get, and stay, healthy, you need to start by evaluating your sleep pattern. If you aren't getting enough rest, your body won't be functioning at its best, meaning you won't be as healthy as you can be. Proper rest not only makes you feel better, but it also makes you perform better. That means your kids will enjoy increased energy and focus at school, you'll be better able to face your day at work or at home with the kids, and everyone will be more likely to stay well.
We hope you'll keep these tips in mind as you head into this year. Adding these things into your routine is a huge improvement for many families and you can feel good knowing you're headed toward better health and a better you! Another important addition to your health? A good health insurance plan. Not only does it alleviate stress during a time of illness or injury, but it also provides for preventative care, which is vital in making sure you are as healthy as possible for the 2018-2019 school year. Give us a call and we can help you determine which plan is right for you!