Being Neighborly: How to Support Our Northern Neighbors as They Prepare for Hurricane Florence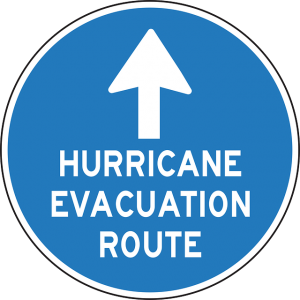 Just a year ago, Hurricane Irma pounded the entire state of Florida with powerful winds, heavy rains that resulted in flooding, and major damage to homes and businesses alike. While much of our state has recovered, or are in the process of recovering, we are no stranger to the catastrophic impact of a hurricane on daily life of residents in the path of the storm. In our time of need, states surrounding us offered a helping hand and support, whether it be countless linemen that gave their time and efforts to restore our power more quickly, relief organizations that sent food, water,r and clothing, or simply friends and neighbors out of state that offered a place of refuge for those who chose to evacuate. Now, Hurricane Florence is threatening our neighbors to the north, and we have a chance to pay back some of the kindness shown to us last year. So, how can we help those preparing to go through a storm of this magnitude?
First, a friendly word of encouragement and some advice based from experience can go a long way. If you have friends or family who have never ridden out a storm like this before, let them know they'll likely be ok, and offer some pointers on preparing. Tips like stocking up on more water than you think you'll need, non perishable food items, flashlights and batteries, etc. as well as charging all devices ahead of the storm are very helpful for those who have never had to do anything like this in the past. Additionally, your advice could help them get ahead of the game and purchase their supplies before the stores are overrun and shelves empty out.
If you have the means, offering your own home as a place of safety is often appreciated. Many people don't have the budget for multiple days in a hotel, and if you pair that with the gas money needed to travel, they might be tempted to ride out the storm even if in an unsafe location. By offering your home, you take away the financial obligation of evacuating, meaning they're free to make the safest choice, not just the most affordable.
Donate and volunteer. If you can, volunteer with local relief agencies in your area to pack trucks with water and other needed supplies. These organizations often go in after the storm to help with recovery efforts and to assist those who are running out of supplies and are unable to get more. In addition to your time, donating monetary gifts, or donating actual supplies like cases of water, canned goods, diapers, etc. go a long way in helping them help other people.
Finally, let your friends and loved ones know how important their insurance policies will be following this type of storm. Whether homeowners policies, rental coverage, auto insurance, or other specialty policies on specific items, having their paperwork and information in order ahead of time will relieve a lot of stress when it's time to make a claim. Not only that, but it will give them time to look over their coverage and determine what will/will not be covered in the event of damage, so they can be prepared. While we might not be facing the storm threat here in Central Florida this time, it's never the wrong time to go over your own insurance policies and review your various plan details. Staying up to date on the provisions in each of your policies is the best way to make sure you're never caught off guard when the unexpected comes your way.
Good luck to our friends and neighbors up North during the coming days. You are in our thoughts and prayers.