Risky Business: Preventing Mishaps This Halloween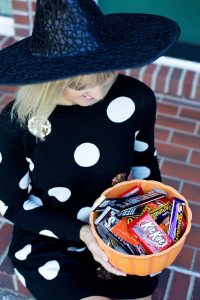 Halloween is always a fun time for children and adults of all ages, and while there are many ways to enjoy and celebrate the holiday, from parties to pumpkin patches and all the trick-or-treating in between, the fun does come with some risks. Whenever you mix large numbers of people walking along roadways, have strangers roaming unfamiliar neighborhoods, and have costumes and candy involved, accidents can and do happen, but you can make them less likely to hit your household by preparing ahead of time. How?
First, prepare by packing. A simple "kit" for Halloween excursions (particularly those during Halloween night) is a great way to think ahead and make sure you aren't caught off guard with a sudden wardrobe malfunction, minor injury, or uncomfortable situation thanks to weather and/or temperatures. Some good ideas for your kit could include:
A small first aid kit for any cuts and scrapes that happen. Costumes can cause plenty of trips and falls, and a simple antibiotic wipe and a bandaid can work wonders.
A small travel-sized sewing kit. No one wants to walk home with their jacket around their waist from a costume mishap such as a rip or tear. Be ready to step in for a quick and easy costume repair.
Flashlight with good batteries. Once the sun goes down, you'll be thankful for the light, and you'll be easy to spot by oncoming motorists.
Glow sticks! Kids love glow sticks, and they serve not only as a fun accessory for the night, but also as an additional way for drivers to spot your child.
A few bottles of water. Florida temps are warm, even in October. Lots of walking will mean thirsty trick-or-treaters.
A fully-charged cell phone. Most people keep their phones on their person, but it's important to make sure it's fully charged for Halloween. Any emergencies can be quickly called in with your phone, plus, as a bonus you have an easy way to document the night with photos!
In addition to preparing for the unexpected by packing, you can also prepare for it by "locking down" your home for the night. Even if you are giving out candy, double checking back doors, all window locks, fence locks, etc. will make sure you don't end up with a "trick" being played on you by someone who means harm, or even by youth out to vandalize and cause trouble. You should also bring in your pets (particularly dogs) to avoid being liable for injuries caused by a scared pup protecting its home and backyard. It's better to have your pet in a secure environment to not only make them feel less vulnerable and anxious, but also to make passerby feel more secure and not feel threatened by simply walking on the sidewalk. Consider too turning on porch lights, flood lights, and even lights along walkways in your yard to increase visibility and make things safer, and more enjoyable, for visitors.
Finally, you can prepare for Halloween by discussing safety protocol with your kids. Knowing to stay with an adult, stay visible with a flashlight and/or other reflective objects, staying with a group, not crossing busy streets, etc. could prevent injury (or worse) and will make the evening go more smoothly for everyone. For younger ones, you might also want to warn against eating candy until they're returned home and can have a parent do an inspection for pieces that seem unsafe, or could be choking hazard. This is difficult to do as you are walking, especially if you have multiple children, so having a "wait until you get home" rule is a good way to make sure you don't end up with an emergency on your hands in the middle of an unfamiliar location.
Just like you prepare for Halloween, preparing for the unexpected in life takes thinking ahead and making arrangements as well. Life insurance, health insurance, home coverage, and other protective plans are great ways to offer security and assistance when life throws a curveball your way. Carroll Marshall Insurance is proud to serve the greater Winter Haven community with the very best in insurance advisement services, and we can help you put together a comprehensive plan to meet your family's needs and budget. Give us a call and find out how we can help you!